10 years of the Istanbul Convention
Bringing hope, promoting respect and inspiring change to end violence against women.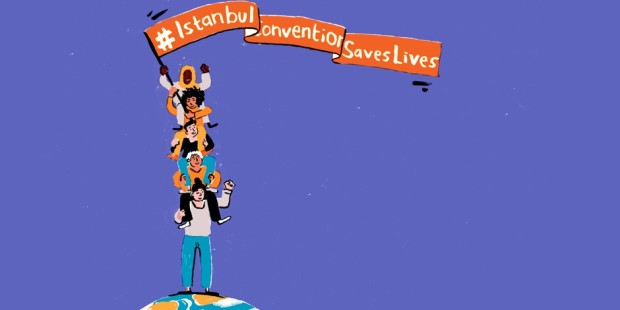 (CoE / Marine Dumény) – The Committee of the Parties of the Council of Europe Convention on Preventing and Combating Violence against Women and Domestic Violence, also known as the Istanbul Convention, issued a declaration to mark 10 years since it was opened for signature on 11 May 2011, in Istanbul. The Committee reaffirmed the essential role of the convention and reiterated its determination to strengthen and accelerate efforts in the next decade to eliminate violence against women and domestic violence.
While expressing "deep concern" about obstacles to end all forms of violence covered by the treaty and condemning any steps taken to move away from its standards, the Committee praises its "remarkable impact" over the last decade to not only prevent violence, but also to protect victims and prosecute perpetrators on the basis of integrated policies, furthermore commending women rights' NGOs in helping to achieve progress. Among 10 "principles" outlined in the declaration, the Committee calls on states' parties to "intensify efforts to promote and fully implement" the treaty. Other anniversary initiatives include a special online portal showing how the Convention has inspired change in laws and policies of European states, helping to save women's lives.
Ten years ago, the Istanbul Convention – the most advanced international treaty to prevent and combat violence against women – was adopted unanimously by the governments of all 47 Council of Europe member states. While Turkey has withdrawn from the treaty (taking effect in July this year), 33 member states have ratified it and 12 have signed, along with the European Union. Countries outside Europe, such as Tunisia and Kazakhstan are seeking to join it. Throughout the past 10 years, the Convention (read key facts) has inspired states to ensure that women are better protected against violence and that abusers are held accountable. New and innovative criminal offences concerning all forms of violence against women were introduced where before there was none, such as stalking, forced marriage and female genital mutilation. States have changed their laws to base the offence of sexual violence and rape on the lack of freely given consent, instead of the use of force. Many national telephone helplines and new support services for victims have been set up.
To millions of women and girls, the Convention brings hope and a greater feeling of safety. Its aim is crystal clear and cannot be misinterpreted: to fight violence against women and domestic violence, which affect women disproportionately, and to bring the issue into the open. The Convention helps victims speak out and enables professionals to respond appropriately. Read testimonies about how the Istanbul Convention can save lives and bring hope across Europe. Women often face violence just because they are women. The Istanbul Convention aims to change those attitudes – including through education – to stress consent, partnership, respect and equality. Everyone, including men and boys, has a role to play in preventing violence against women and ensuring that the provisions of the Istanbul Convention are turned into action that will improve the safety and empowerment of women and girls in Europe.
The tenth anniversary of the Istanbul Convention provides a unique opportunity to highlight its achievements and its objectives for the years to come. Everyone is invited to join forces around the Istanbul Convention to advance women's human rights and to end violence against women and domestic violence.
To learn more:
On 11 May, the Council of Europe is jointly organizing an online conference on "Gender equality and the Istanbul Convention: a decade of action" with the German Federal Ministry for Family Affairs, Senior Citizens, Women and Youth, in the framework of Germany's current Presidency of the Committee of Ministers.