(17) Beautiful Europe. Vote on May 26!
Today / aujourd'hui / heute: Dr. Eleni Theocharous (Cyprus)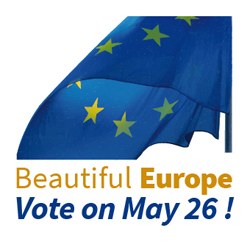 On May 26th, by exercising your fundamental right of voting, you will prove your conscious commitment to democracy. Remember that cohesion is not only built by politicians but also by citizens. Your vote has a real impact and you have real political weight, for the Europe we have, and influence, for the Europe we want.
Dr. Eleni Theocharous represents Cyprus in the European Parliament
En allant exercer votre droit fondamental de voter le 26 Mai, vous prouverez votre engagement volontaire pour la démocratie. N'oubliez pas que la cohésion est non seulement mis en place par les responsables politiques, mais également par les citoyens. Votre vote a une véritable importance et votre voix pèse au niveau politique – pour l'Europe que nous avons et pour influencer la voie qui mène vers l'Europe que nous voulons.
Dr. Eleni Theocharous représente la Chypre au Parlement Européen
Wenn Sie am 26. Mai Ihr Grundrecht auf das Wählen wahrnehmen, dann beweisen Sie damit Ihr ganz bewusstes Engagement für die Demokratie. Vergessen Sie nicht, dass die Kohäsion nicht alleine Sache der Politiker ist, sondern dass sie auch von den Bürgerinnen und Bürgern aufgebaut werden muss. Ihre Stimme hat Wirkung und ein echtes politisches Gewicht – für das Europa, das wir haben und für das Europa, das wir wollen.
Dr. Eleni Theocharous repräsentiert Zypern im Europâischen Parlament