(66) Beautiful Europe. Vote on May 26!
Heute / aujourd'hui / today: Maria Heubuch (Deutschland)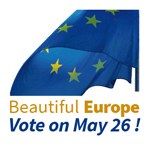 Wählen Sie, weil wir Klima und Artenvielfalt am besten europäisch anpacken können. Beide Probleme könnten massiv entschärft werden durch eine nachhaltigere und gerechtere EU-Landwirtschaftspolitik. Darüber wird das neue Parlament zu Beginn seiner neuen Amtszeit abstimmen. Sie als Wählerinnen und Wähler entscheiden daher am 26. Mai, wie diese Milliarden an Euros in Zukunft ausgegeben werden: Für Tierschutz, Pestizidreduktion und bäuerliche Landwirtschaft – oder für die Agrarindustrie?
Maria Heubuch repräsentiert Deutschland im Europäischen Parlament
Allez voter, car c'est au niveau européen que nous pourrons nous occuper le mieux du climat et de la biodiversité. Les deux problèmes pourraient être massivement rendus moins graves par une politique agricole européenne plus pérenne et plus juste. Le nouveau parlement décidera de ces questions immédiatement au début de la nouvelle mandature. Vous, les électeurs et électrices, vous allez donc décider le 26 Mai comment ces milliards d'euros seront utilisés à l'avenir : pour la protection des animaux, une réduction des pesticides et une agriculture paysanne – ou bien pour l'industrie agro-alimentaire ?
Maria Heubuch représente l'Allemagne au Parlement Européen
Please vote, because the climate change and the biodiversity should ideally be handled on the European level. We can massively improve both problems by applying a more sustainable and fair agriculture policy. The new parliament will decide on these topics right at the beginning of the new legislative period. So, you, the voters, will decide on May 26 how we will spend these billions of euros in the future: for the protection of animals, for the reduction of pesticides and a farmer agriculture – or for industrial agricultural structures?
Maria Heubuch represents Germany in the European Parliament