Journalist: a risky job
One week ago, an Al-Jazeera journalist was killed by an unidentified gunshot during the war in Ukraine, the press sign no longer serves as protection... In recent years, journalists around the world have faced serious threats.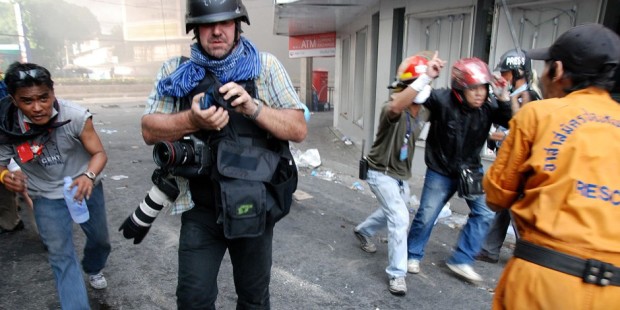 (Elsa Woeffler) – Journalists are the eyes of the outside world, for those who cannot see it. But sometimes the reality is quite different. Unpunished crimes are perpetrated on journalists for daring to reveal truths, truths that sometimes disturb. But isn't the very essence of being a journalist to dare to tell the truth, and protecting journalists isn't protecting the truth? However, in a recent UNESCO report on the safety of journalists, impunity for crimes against the profession continues to prevail. In the period 2018-2019, UNESCO recorded a total of 156 murders of journalists worldwide. Overall, over the last decade, one journalist has been killed every four days. The most dangerous regions for journalists are Asia and the Pacific, with 31 journalists killed between 2020 and 2021.
Thus, the report on press freedom is equally alarming. Intrinsically linked to journalist attacks, press freedom is not equally free in all countries. Indeed, according to the 2022 "Reporters Without Borders" (RWB) report, the federation which edits an annual report on press freedom around the world, the countries where press freedom is in a very serious state are mainly in the Asia-Pacific region. In Europe, press freedom is not the same everywhere, and even within the European Union, disparities exist. Even in Europe, journalists often work under complicated working conditions, even though several laws protect the profession worldwide and in Europe.
Moreover, it is at the gates of Europe that another challenge is being played out, combining freedom of the press, the situation of journalists and propaganda. Indeed, the war in Ukraine is a minefield for journalists, a real information war is being waged on the borders of Ukraine. Thus, provocation, false news and propaganda are part and parcel of the daily life of the three thousand or so reporters on the ground. Since Russia invaded Ukraine, seven journalists have been killed and eleven injured by gunfire. This is a difficult reality on the ground which shows a part of the life of journalists and reporters that civil society sometimes finds difficult to imagine.
Links
Rapport UNESCO
Carte rapport liberté de la presse 2022 RSF
Nombre de journalistes tués en Ukraine RSF