Series (5) – European money for the Mafia?
Today: Justice at the service of organised crime - The extraordinary dysfunctions of the Italian judicial system through repeated cover-ups and corruption, the connections with business and politics and the silence of the Supreme Judicial Council.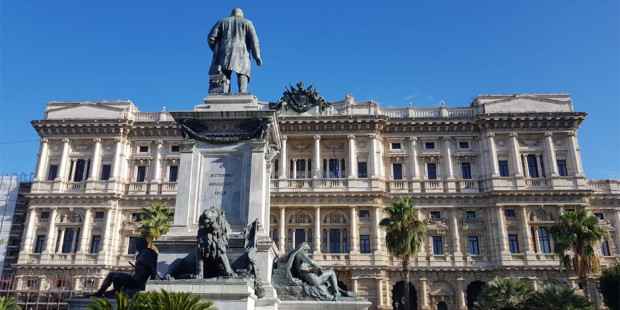 (Kai Littmann) – The Constitutional Charter states that the Italian justice system functions like in all democratic countries. There are courts, courts of appeal, the Court of Cassation and the Supreme Council of Justice (Consiglio Superiore della Magistratura – CSM), which oversees the proper work of the courts and magistrates under the control of the Constitutional Court. In practice, however, the judiciary is part of what many books and press articles refer to as "il sistema", a closed circle involving politics, the judiciary, powerful corporations and organised crime. This article could be fifty pages long to expose the corruption at the highest levels of the Italian state, but it is more effective to illustrate the current state of the Italian judicial system through the case of former judge Luca Palamara and lawyer Piero Amara, a scandal that is currently shaking Italy.
Luca Palamara has had an extraordinary career. As the youngest president of the ANM (National Association of Judges and Prosecutors) and a member of the highly respected Supreme Judicial Council, Luca Palamara was destined for even higher positions. However, he was investigated and charged with "corruption" (which was later changed to "influence peddling"), and after he was expelled from these honorable bodies, Palamara, together with lawyer Piero Amara, began to publish lists of the names of corrupt judges. Palamara compiled a list of 40 to 70 names of high ranked personalities who belong or belonged to a secret Masonic Lodge, also known as "Ungharia" or "P5". To prolong the fun, Palamara is releasing this list in dribs and drabs, and today, in many politicians' offices and courts, many people are currently trembling for fear that their names might also appear publicly.
The scandal also affects the Supreme Council of Justice (CSM), as well as the Court of Cassation, prominent politicians, the President of the CSM and the President of the Republic Sergio Mattarella, who, as a guarantor of compliance with the Constitution, must logically be aware of all the abuses in "il sistema". The CSM plays a very important role for "il sistema", as this council regulates the allocation of positions in the courts; decides on transfers (important to ensure that certain cases are heard in courts presided over by compliant judges); he also appoints the judges of the Court of Cassation and has other functions that make it possible to control proceedings in the interests of "il sistema".
In the article in this series about the case of businessman Rosario Leo, we will show specifically how cases are passed from one court to another, how files are "lost" and manipulated, and how "il sistema" works to prevent Rosario Leo from obtaining a final judgment from the Court of Cassation that would allow him to sue before the European Court of Human Rights.
For Italian citizens, going to justice is a risky undertaking, as it is difficult to determine who is part of "il sistema" and which magistrate is working correctly. Of course, many Italian magistrates work correctly, such as the public prosecutor of Castanzaro, Nicola Gratteri, who we will introduce later in this series. But judges who do not obey "il sistema" pay a high price for their straightforwardness. In October, Nicola Gratteri will be transferred from "his" court in Calabria, where he indicted over 1,000 mafiosi, including politicians and regional councilors, to another. It is very likely that Nicola Gratteri will be transferred to a court where he will have little to do with organised crime.
Of course, this is primarily an Italo-Italian problem. - But then, it is also a European problem, because it is this system that enables the waste of EU funds and thus favors organised crime, under the protection of a corrupt politics and judiciary system that prevents entrepreneurs from other EU states from investing in Italy and/or to participate in public and private tenders and contracts.
No one in "il sistema" can claim not to be aware of this. Rosario Leo's comprehensive dossier was also sent to President Sergio Mattarella, Prime Minister Georgia Meloni, ministers Di Maio, Salvini, Bonafede, Orlando, Cartabia and others, as well as ministers under previous governments such as Renzi, Letta, Gentiloni, Conte, Draghi and others. Although some of these politicians promised to solve the problem, this did not happen and the magistrates involved in these cases were almost all promoted and given other interesting positions, but none of these magistrates has ever been harassed or charged. The full list of judges and prosecutors involved is available to the editor. So far the CSM remains silent, but it will not be long before the members of "il sistema" are made public by Luca Palamara and/or the lawyer Piero Amara, a former lawyer of ENI s.p.a.. Amara, who was also charged with bribing judges and buying judgments worth over 400 million euros and other crimes, is now coming clean, just like Palamara.
The European Commission should introduce effective controls to monitor EU funds invested in Italy. The European Commission should stop payments at the slightest sign of corruption and financing of organised crime. The numerous violations of the Anti-Mafia Law (Legge 55/1990) committed by "il sistema" must also be addressed by Brussels, which cannot continue to turn a blind eye to this co-financing of organised crime in Italy.
At the moment, Luca Palamara, Piero Amara and the Attorneys General of the Supreme Court of Cassation have been keeping the secrets of the entire matter presented here since 2014. But what action will the European Commission and the ECHR take?
Already published in this series:
Article 0
Article 1
Article special number
Article 3
Article 4