(44) Beautiful Europe. Vote on May 26!
Today / heute / aujourd'hui : Merja Kyllönen (Suomi / Finland)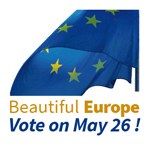 I think it is very important to vote, because all our basic issues, which covers our medicine, our eye-glasses, our clothes, our food – what ever we use, it needs to be save. And the European Parliament is the place where we decide the safety regulations for all these. That is the one fundamental reason, why you should vote.  
Merja Kyllönen represents Finland in the European Parliament
Ich denke, es ist sehr wichtig zu wählen, denn alle unsere grundlegenden Angelegenheiten, unsere Medizin, unsere Brillen, unsere Kleidung, unsere Lebensmittel – was immer wir auch benutzen, es muss sicher sein. Das Europäische Parlament ist der Ort, wo wir über die Sicherheitsrichtlinien entscheiden. Das ist ein entscheidender Grund, warum Sie wählen sollten.
Merja Kyllönen repräsentiert Finnland im Europäischen Parlament
Je pense qu'il est très important de voter, car nos affaires fondamentales, notre médecine, nos paires de lunettes, nos vêtements, nos aliments – tout ce que nous utilisons doit être sûr. Le Parlement Européen est l'endroit où nous décidons des directives de sécurité. Voilà une des raisons principales qui devrait vous convaincre d'aller voter.
Merja Kyllönen représente la Finlande au Parlement Européen