(8) Beautiful Europe. Vote on May 26 !
Heute / today / aujourd'hui : Lukas Mandl (Österreich)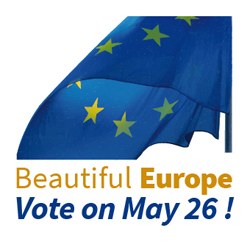 Jede Bürgerin und jeder Bürger der EU ist im Europa-Parlament vertreten. Bei der Europa-Wahl sind alle aufgerufen, die Vertreterinnen und Vertreter für die nächsten fünf Jahre zu wählen. Wer wählt, bestimmt mit! In Österreich kann man nicht nur für eine Partei stimmen, sondern mit der Vorzugsstimme auch ganz konkret für eine Person. Also: Beauftragen wir unsere Vertreterinnen und Vertreter!
Lukas Mandl vertritt Österreich im Europäischen Parlament
Chaque citoyenne et citoyen de l'Union Européenne est représenté au Parlement Européen. Lors de l'élection européenne, tout un chacun est appelé à élire nos représentants pour les cinq ans à venir. Celui qui vote, fait partie des décisionnaires ! En Autriche, on ne pourra pas seulement voter pour un parti, mais également avec un vote préférentiel pour un ou une candidat(e). Donc : déterminons ceux et celles qui nous représentent !
Lukas Mandl représente l'Autriche au Parlement Européen
Every European citizen of the European Union is represented in the European Parliament. Every European citizen is invited to elect our representatives for the next five years. Those who vote take part in the decision process! In Austria, we not only vote for a party, but also with a preferential vote for a specific candidate. So: Let's select our representatives!
Lukas Mandl represents Austria in the European Parliament